UK ARMY CENSUS
UK ARMYs! Please fill out this census and spread it to all the UK ARMYs you know on all socials. It will only take you a minute!The goal of this census is to get an approximate figure of how many ARMYs there are in the UK. This will help us better plan forward for comeback goals for BTS in the UK so that we can get BTS on the top of our charts so it's really important!
Results - October 2020
The census is still open for UK ARMYs to fill out, but we have gathered and presented the results that have been collected so far below, so we can use this information to prepare UK ARMYs for the upcoming comeback.
Age & location of UK ARMYs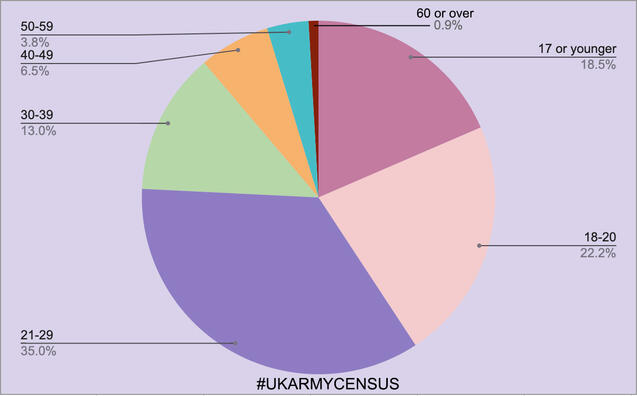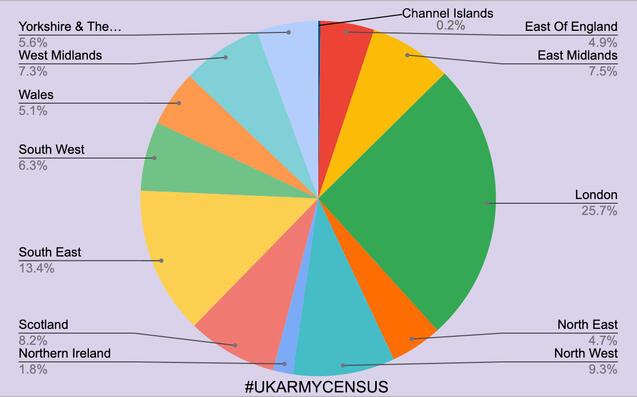 Social media platforms used by UK ARMYs for BTS content
UK fanbases UK ARMYs are aware ofWe could improve a little on getting UK ARMYs more engaged with BTS Radio UK since the work they do is so vital.We could improve awareness of Funds For BTS UK a lot so we can help fund more UK ARMYs so please spread the word!@BTSRadioUK @BTSUKUNITE @BANGTANUK @FundsForBTS_UK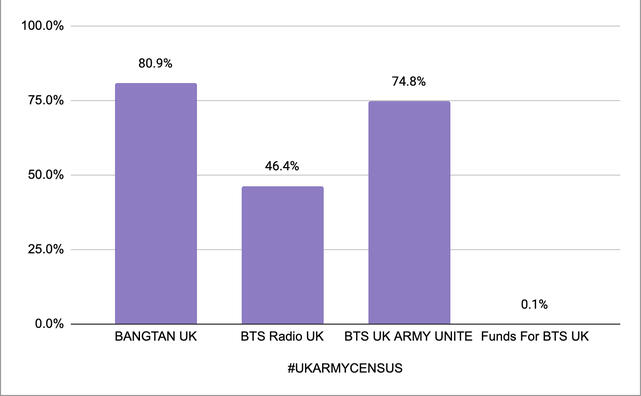 UK fanbase projects UK ARMYs are aware of
These are the UK fanbase projects you are aware of.The BTS UK Carrd is a goldmine of info for UK ARMYs to buy, stream & request BTS music properly, so it's vital that we increase awareness of this. Please share it & make sure to go through it before CB.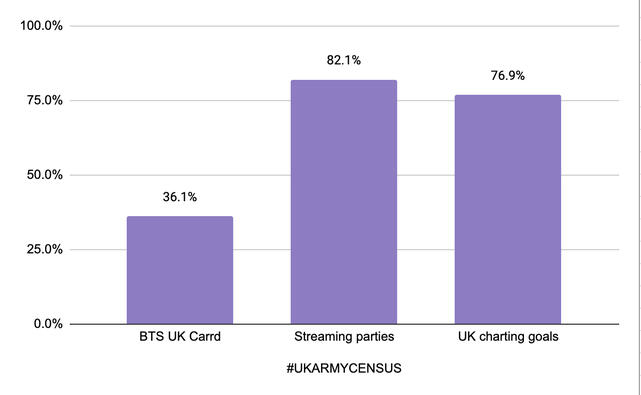 Music platforms from which UK ARMYs have purchased
We need to increase our Amazon & Tidal music sales a LOT if we are to have any chance of achieving our goals for BE. Google Play is now closed, which makes it more vital for us to buy on other platforms. Guides about how to do this are here.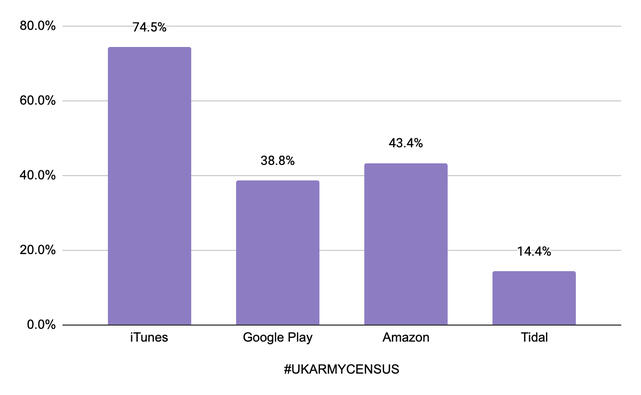 Retailers from which UK ARMYs have purchased physical albums
UK ARMYs, make sure you buy from UK chart-approved retailers (purple) and not from non-UK chart approved retailers (red) as these won't count & will hinder us achieving our UK goals for BTS.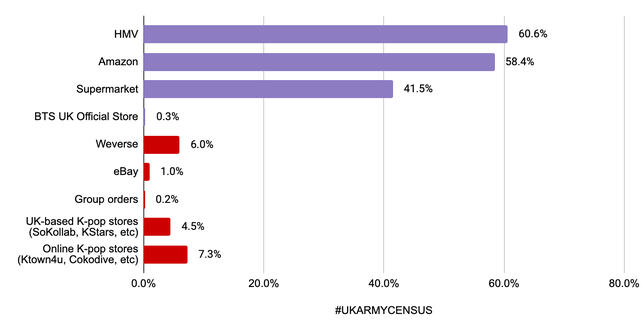 Platforms on which UK ARMYs have streamed
There is a decent % ARMYs streaming on YouTube & Spotify. But not many ARMYs are streaming on all the other platforms. Streaming on those could really boost BTS' chart position.Sign up here & use them for BE!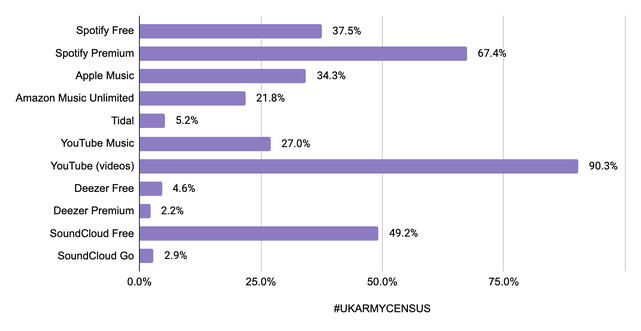 UK ARMY suggestionsThis is a summary of some of the suggestions we got from the UK ARMY census & our responses.1) Suggestion: We need to make the UK chart rules more known as a lot of people assume it's the same as the US.
Answer: All of your UK bases have been promoting the UK chart rules consistently through regular posts & polls and they are all in the BTS UK Carrd. We will continue to do this in the run up to and during the next comeback.2) Suggestion: UK ARMYs need to focus on longevity. So please come up with weekly goals instead of just having 24 hour goals.
Answer: Our comeback goals video and infographics all contain information about longevity. For BE our aim is to keep the lead single in the charts for 15 weeks and the album for 25 weeks. We have been doing this for Dynamite also & are still promoting it and have held parties for it 9 weeks after release. See here for more info for BE's goals3) Suggestion: More streaming parties please and with maybe more frequent/longer countdowns as I always seem to miss the party because I wasn't aware it was going on but I follow a lot of UK fan accounts on Twitter.
Answer: Your UK fanbases will be holding a full 2 weeks of streaming parties for BE and we will be posting regular reminders. Please have your notifications on so you don't miss the parties.4) Suggestion: Is it possible to gather and track more stats on weekly/daily sales and streaming (I know we have stats on radio play). Compare this to other acts in the charts. Maybe this information would help to achieve or set goals.
Answer: This would certainly be very useful! Your UK fanbases have been gathering and posting stats for all UK charts for Dynamite and will endeavour to do this for BE also. However, the Official Charts Company doesn't always release detailed information like numbers of pure sales vs streams, etc. and not every platform releases its streaming figures so there is a limit as to exactly how much data we can collect and present.
UK Charts
In order to reach our goals, we need to understand how the UK charts work and we need to buy & stream correctly for them, as each country's charts has its own rules.We also need to utilise ALL buying & streaming platforms and get familiar with platforms we haven't used before to maximise sales & streams.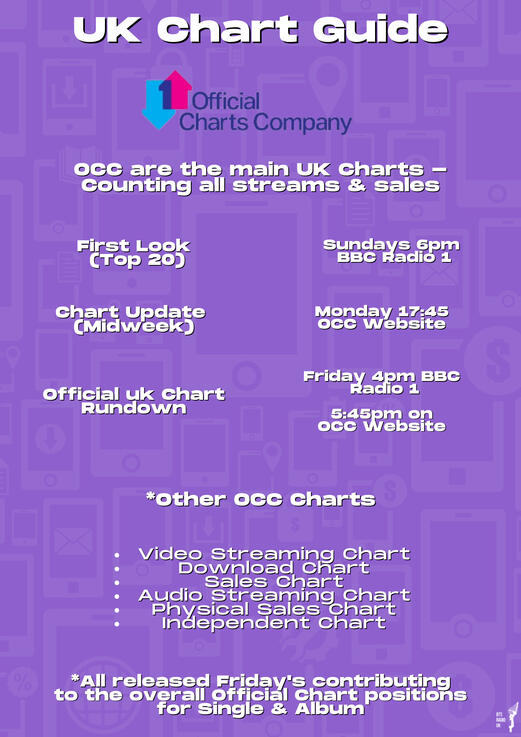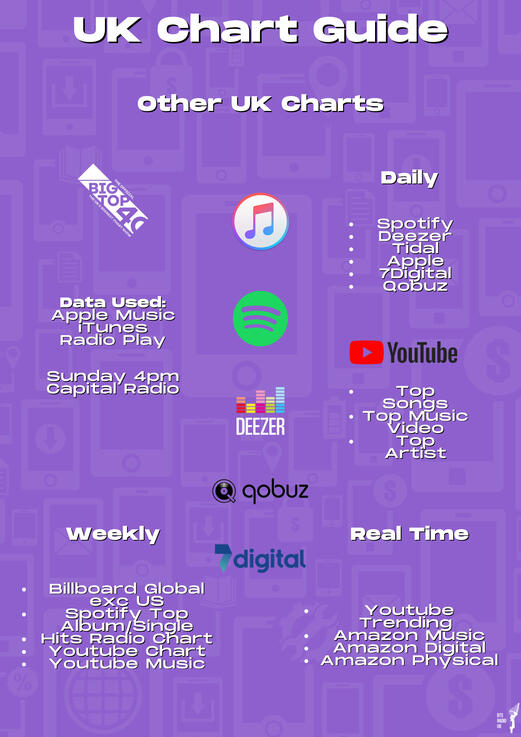 BTS on the UK Official Charts
Below are the BTS singles and albums that have charted on the Official UK Charts so far and their peak positions.
Singles: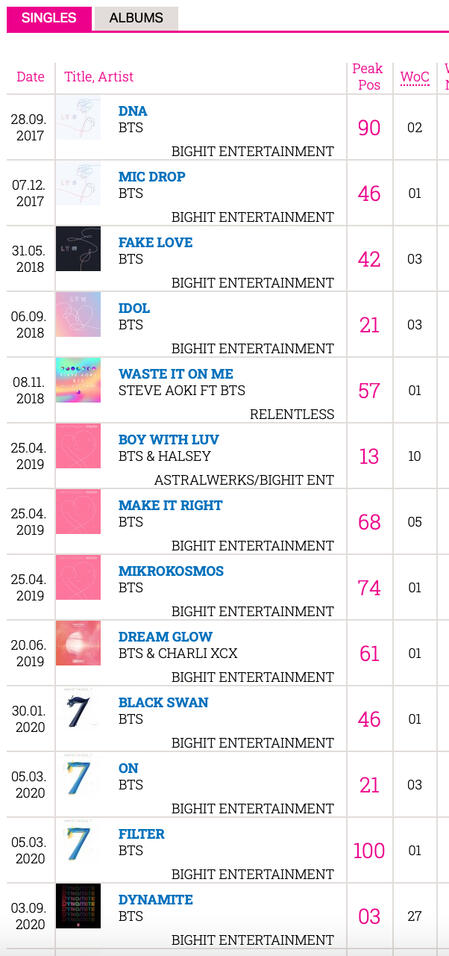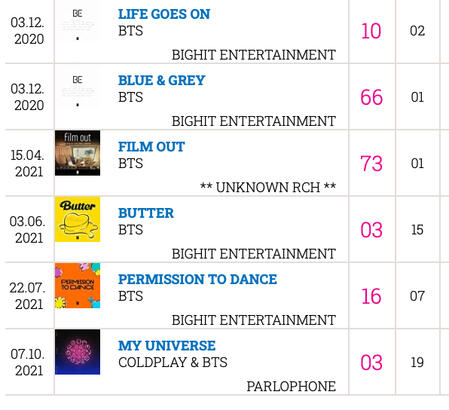 Albums: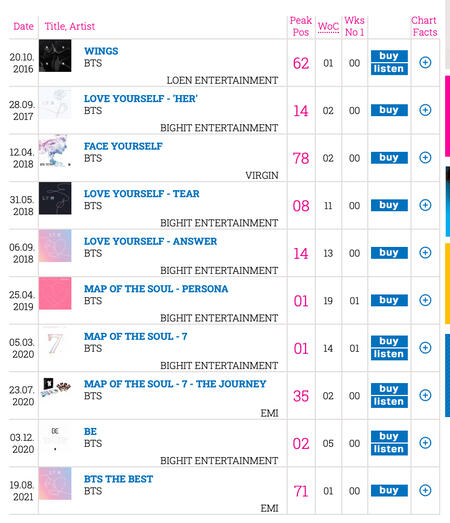 Current certifications of BTS albums in the UK: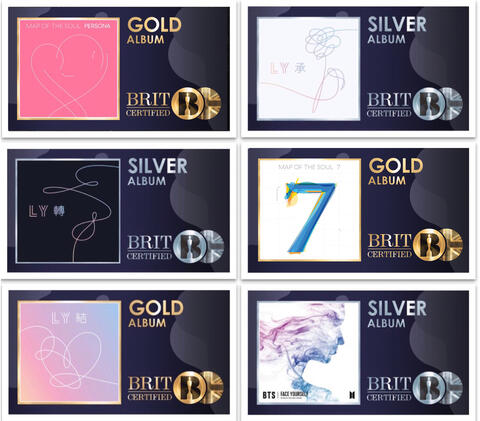 Silver albums = 60k+ units
Gold albums = 100k+ units
Current certifications of BTS singles in the UK: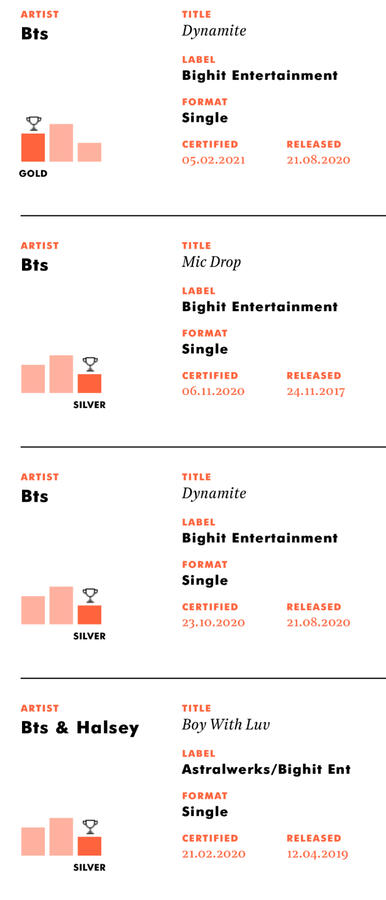 Silver singles = 200k+ units
Gold singles = 400k+ units
Physical Sales
PROOF
HMV
Standard
CompactAmazon UK
Standard
CompactWHSmith
Standard
CompactASDA
Selected ASDA stores will be selling the album from release day - please call your local store ahead to ensure they have stock before making your way!Physical albums don't count towards UK charts due to the inclusion of random PCs.If you are ordering from Amazon, follow the link above. Don't buy from 3rd party sellers. Make sure it says 'dispatched and sold by Amazon'.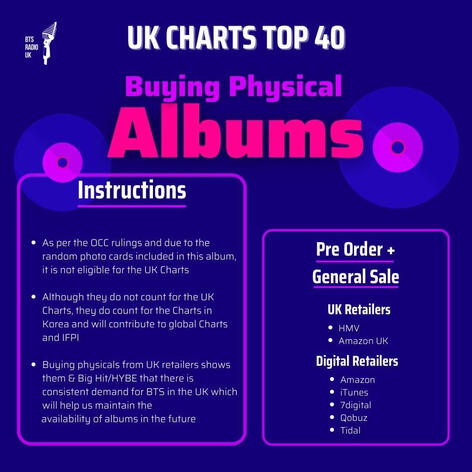 Digital Sales
Make sure you are purchasing digital music correctly to count for the official UK singles and album charts! This section will show you how.Be open to buying on unfamiliar platforms to boost sales and help us achieve our goals for BTS on the UK charts!
PROOF LINKS
iTunes
Search for album & Yet To Come MV manuallyAmazonTidal**Qobuz **7digital
TBC
PLEASE REMEMBER!
IN THE UK WE BUY THE LEAD SINGLE FIRST AND THEN COMPLETE THE ALBUM AS A WHOLE AFTER.DO NOT buy the album before buying the lead single.
DO NOT buy the tracks individually.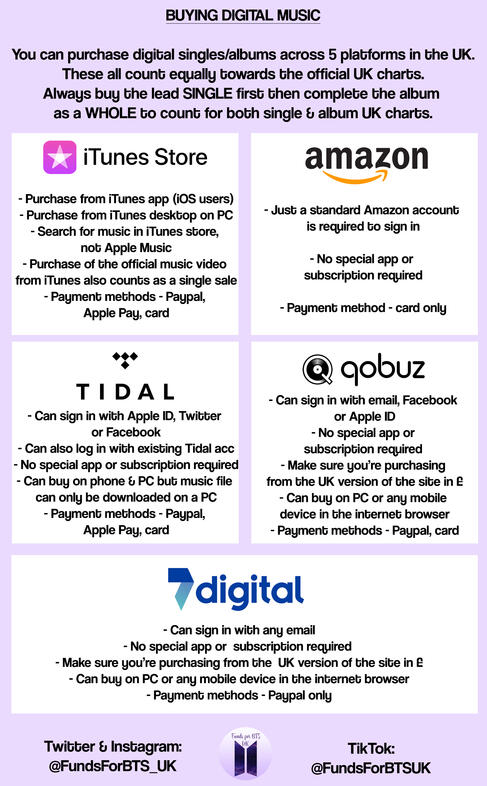 Click here for FAQs about UK chart rules
If you are confused about how to purchase across all digital platforms please see our how to guides.
Streaming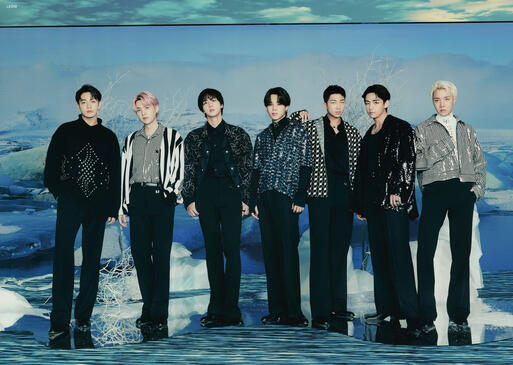 This section will show you how to stream correctly for your streams to count for UK charts.You can stream BTS music on the following streaming platforms. Paid streams count more towards the charts than free streams, so please make sure to make the most of free premium trials for all platforms:
Spotify
Apple Music
Amazon Music
Tidal
Deezer
Soundcloud
YouTube
YouTube Music
NapsterTake a look at our playlists page for links to streaming playlists on various platforms as well as a guide on how to make your own effective streaming playlists. Take a look at our YouTube page to find links to all official BE videos that count towards the charts.Click here for FAQs about UK chart rules
Streaming Guides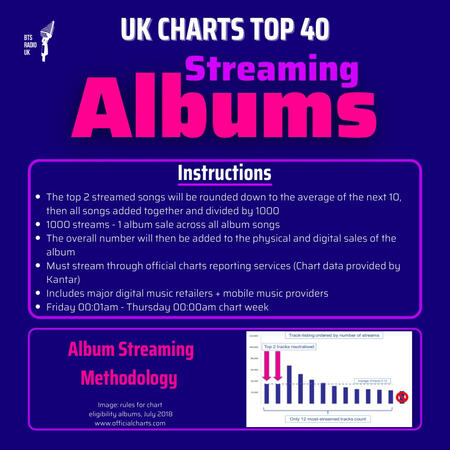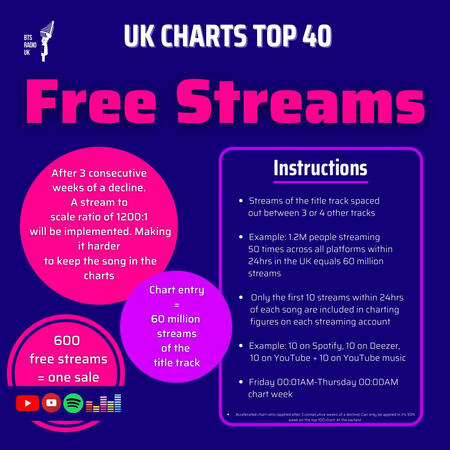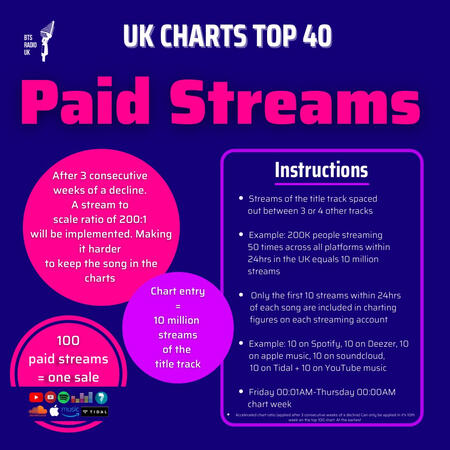 Delete your iTunes purchases from your library so that your Apple Music streams count!
Guide here
10 STREAM RULE
In the UK, only 10 streams per day per account will count towards charts. Although not stated in the OCC rulebook, this rule has made its way into press releases on authority of OCC and was confirmed in an email by OCC when asked about these press releases (see below). Therefore, you will need to switch account or streaming platform if you wish your streams to count, after streaming a song 10 times.10 streams per streaming account per day relates to the UK charts. After this, the streams don't count towards the UK but WILL count for global charts.
Streaming Guide Videos
The following are helpful guide on how to stream correctly on Spotify, Apple Music, Amazon Music & Youtube. Video credit: @AllForArmy